e20xx / e21xx computer modules
Computer modules for iX5100 series.
Computer moduler for iX5100 series
e20xx / e21xx computer modules are based on the industrial standard Qseven (R) but have been adapted for Unibap's space computer solutions. The products use AMD 1st and 2nd generation G-series SOC processors with up to 4 CPU cores and 128 GPU cores. The modules contain 2.5 GB of DDR3 RAM with error correction (ECC / EDAC), of which 2 GB is connected to the AMD processor and 0.5 GB is connected to the FPGA which is from the Microsemi SmartFusion2 family.

The unit is monitored by a FreeRTOS software running in ARM Cortex-M3 in FPGA while AMD runs on 64 bit Linux operating system.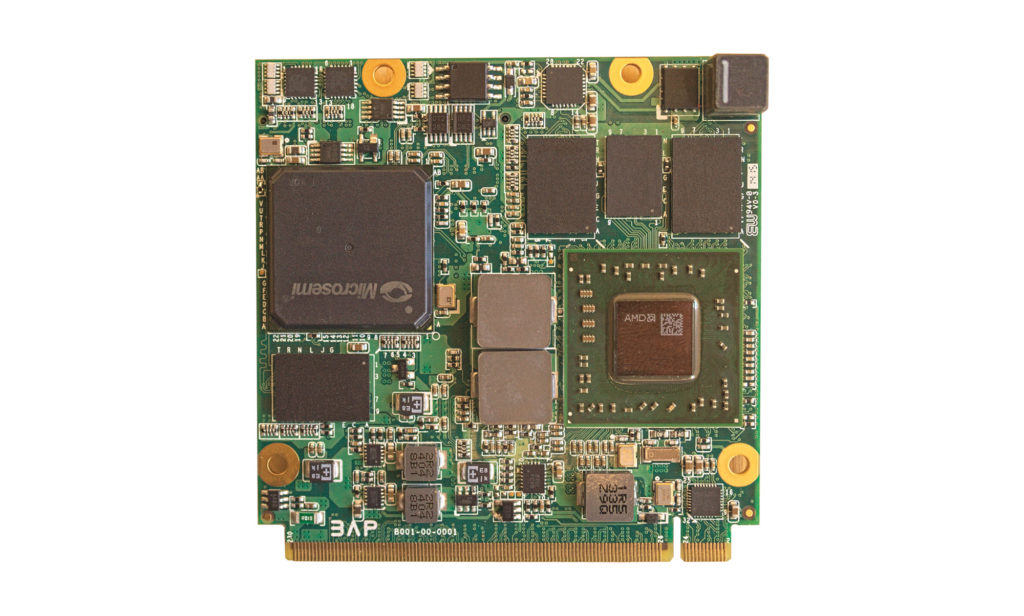 Unibap e20xx/e21xx computer module.
The computer modules have multiple clocks for monitoring the correct functionality in the radiation environment. Furthermore, the modules support Unibap's hardware functions for execution control, SafetyChip and SafetyBoot, which enable external operation monitoring of the x86 processor. In addition, voltages, currents and temperatures are monitored in the module.
The computer modules have 330 I/O which include:
Gigabit Ethernet
PCIexpress generation 2
 LVDS
SerDes
USB 2.0
USB 3.0
SATA v3
CAN v2.0b
SPI
I2C
UART
GPIO
LPC
Performance
There are various alternatives depending on needs and power supply.
e2160 har the following performance:
CoreMark v1.0, 5,842.98, (GCC8.1.0 -O3 -funroll -loops -fgcse-sm -mfpmath=both -DPERFORMANCE_RUN=1 – lrt / Heap)
Linpack, 4.6 GFLOPS
CLpeak, 87 GFLOPS (fp32)
FPGA has 72 DSP block (18×18)
AMD-FPGA PCIe interconnect, x2 lanes gen 2 (6.4 GT/s)