Unibap iX5100 i 6U CubeSat från NASA
NASA valde 2018 ut "Hyperspectral Thermal Imager, HYTI" missionen för demonstration av möjligheten till precisionsjordbruk och andra tillämpningar utifrån spektral termisk data i en liten satellit. Själva HYTI satelliten mäter 30 cm x 20 cm x 10 cm enligt CubeSat standarden sex enheter (6U). I praktiken jämförbart med en skolåda. Projektet finansieras av NASAs ROSES program inom jordobservationsprogrammet (ESTO) och nyttjar en kamerateknologi från NASA Jet Propulsion Laboratory.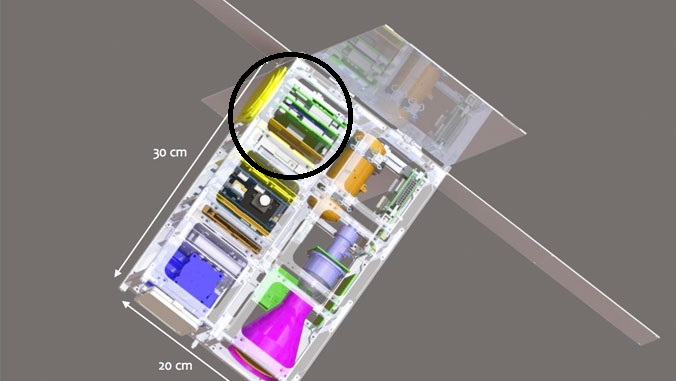 Illustration av HYTI med dess innanmäte och utfällda solpaneler. Gjord av Hawaii Spaceflight Laboratory, University of Hawaii.
Unibaps SpaceCloud®lösning, iX5100 används ombord för insamling- och databearbetning av kamerainformationen och för kommunikation tillbaka till jorden.
Ringen i bilden ovan visar var iX5100 lösningen är placerad i satelliten. iX5100 upptar ungefär 10 cm x 10 cm x 5 cm och förser systemet med systemövervakning, dataöverföring, datalagring, dataprocessning med en heterogen arkitektur (CPU, GPU, FPGA) samt som alternativ dedikerad AI accelerator.
En översikt av iX5100 funktioner i satelliter visas nedan.

Illustration av iX5100 funktioner för HYTI missionen.
Ombord på HYTI satelliten bearbetar iX5-100 lösningen cirka 464 megabit per sekund (Mbps) data i realtid från den spektrala termiska sensorn samt har upp till 240 GB icke-volatil datalagring.
En spektral termisk sensor, d.v.s. en kamera som kan se djupt ner i det infraröda spektrat kan från rymden studera växters och ytors egenskaper i det infraröda området. Det kan bland annat användas för att se vulkanutbrott, oljespill, virusangripen åkermark och skog eller skogsbränder.
Den senaste vetenskapliga publikationen om HyTI kan du läsa här.
En presentation av HyTI-missionen kan laddas ned här.
Video about the HyTI-mission, featuring Miguel Nunes, PhD, from HSFL
Det finns mer information att läsa från systemintegratören, d.v.s. den som bygger satelliten vilket i detta fall är University of Hawaii. Här finns lite länkar med information.