Integration i rymdfarkost och gemensam utvärdering efter uppsändning
Unibap levererade hårdvara och programvara till D-Orbit för integration i mars 2021 och sändes upp i rymden den 30 juni 2021. IONs primära funktion är att leverera och distribuera mindre satelliter i exakta omloppsbanor. ION innehåller ett standardiserat mekaniskt, elektriskt och datagränssnitt som effektiviserar integrationen av nyttolaster, som tex innovativ teknik utvecklad av start-ups, experiment från forskningsenheter och instrument från traditionella rymdföretag med en vikt typiskt mellan 1 och 200 kg.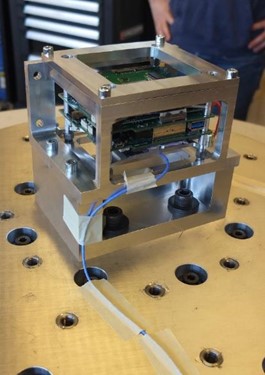 Unibap iX5-100 monterad för vibrationstestning på jorden
Målsättningen är att demonstrera de nya möjligheter som SpaceCloud erbjuder, att karakterisera prestanda och få praktisk erfarenhet av driften av en molnnod i en rymdfarkost som är säkert ansluten till molntjänster på jorden. En rad innovativa lösningar och applikationer kommer att demonstreras för bland annat avancerad geospatiell jordobservation och rymdlägesbild utifrån sofistikerade, AI drivna algoritmer avsedda för beslutsstöd med extremt låg fördröjning. Dessutom kommer parterna att experimentera med en mängd komprimeringstekniker för streaming av video och andra typer av data till jorden.
---
Unibap's solution, which addresses the issues of deploying high power, modern COTS processors in the harsh space environment meant they were exactly the partner we needed for this mission
Simon Reid
COO, D-Orbit UK
---
Unibap och D-Orbit kommer att ladda upp ytterligare SpaceCloud-applikationer och experiment utifrån tillgängliga resurser ombord under testperioden för att maximera utvärderingen av affärspotentialerna för databehandling i rymden. Möjligheter för tredje part att demonstrera programvara på det första kommersiellt tillgängliga "Cloud in Space" kan också erbjudas under 2021.
Unibap stöds som tidigare kommunicerats redan av Europeiska rymdorganisationen (ESA) genom ett pågående projekt inom det allmänna studieteknologiprogrammet (GSTP) för att underlätta integration av tredjepartsapplikationer och syftar till höjd teknikmognad av SpaceCloud tillförlitlighetsfunktioner, SafetyChip och SafetyBoot. SpaceCloud möjliggör samma typ av molntjänster som finns i serverhallar på jorden, som containeriserad orkestrering och isolering vilket gör att resurserna kan tilldelas för parallell körning av applikationer.
---
The planned IOD with Unibap and D-Orbit will demonstrate a new concept of a single payload computer generating multiple data products in parallel, a method which can enable new mission concepts in the future
David Stenaari
On-Board Payload Data Processing Engineer, ESA
---