iX10-100 SpaceCloud® datorlösning
iX10-100 är Unibaps nästa generation SpaceCloud® lösningar som är kompatibla med AMDs högprestandabibliotek (HPC) kallat ROCm. iX10-100 baseras på 14 nm AMD Ryzen V1000 familjen och erbjuder upp till 8 processortrådar och 8 CU grafikacceleration tillsammans med PCIexpress generation 3.
Unibap utvecklar just nu iX10-100 med stöd av Rymdstyrelsen och avser att ha en labb-version (EM) framme i mitten av 2020 och flyghårdvara mot slutet av 2020.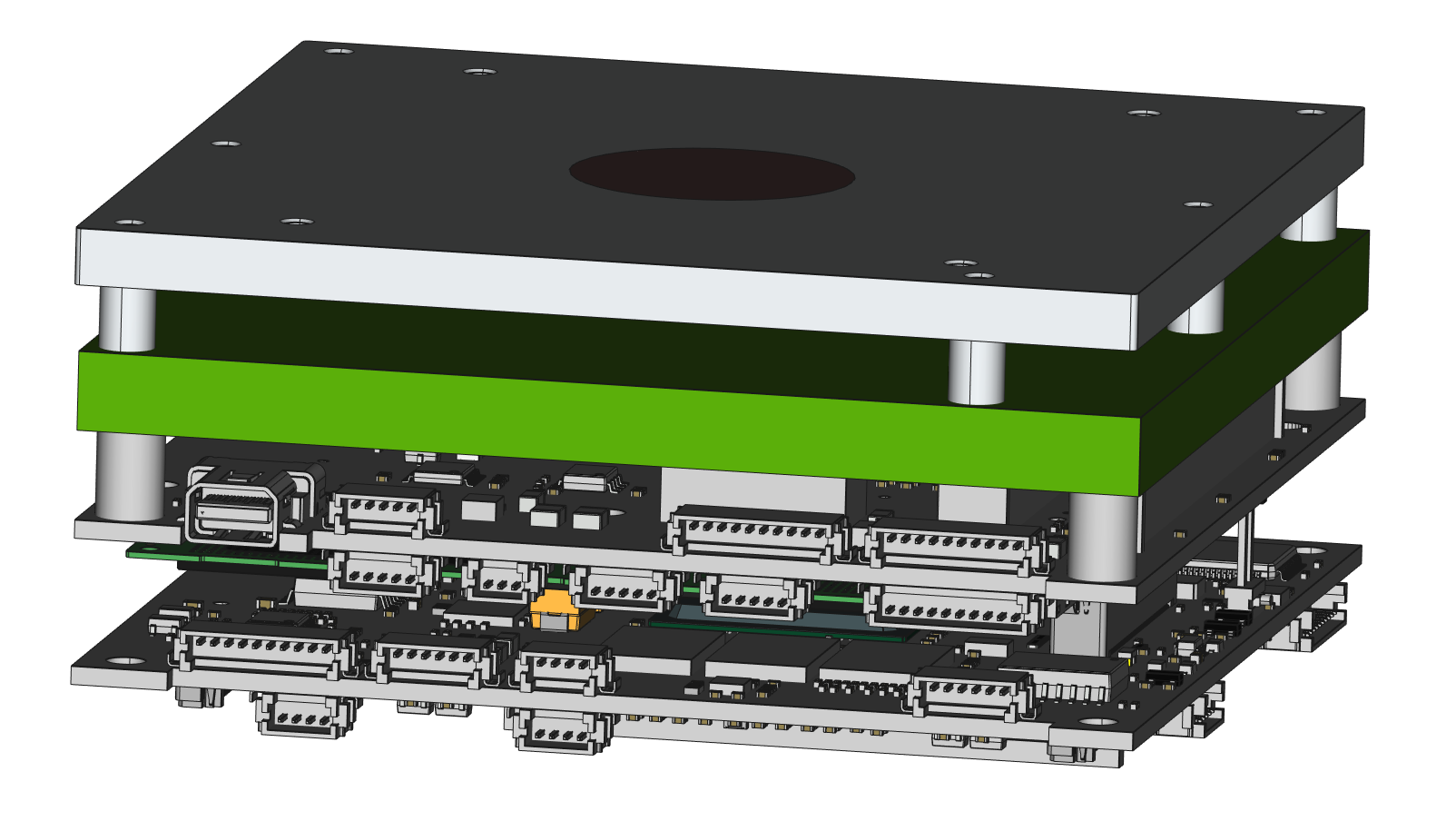 Ovan: Illustration av iX10100 under utveckling.
iX10-100 har förutom 14 nm AMD processorteknik en FPGA från Microsemis PolarFire familj. Möjligheten till datalagring är utökad från iX5-100 med en delad M.2 slot som antingen kan vara SATA eller eNVM (PCIe) baserad, med upp till x4 lanes generation 3. Antalet tillgängliga LVDS-signaler har utökats från 16 till 30.
iX10-100 stödjer en lång rad I/O, vilket kan expanderas ytterliggare med FPGAn. Bland annat stöjds:
Gigabit Ethernet
LVDS (x30)
RS422/482
I2C
SPI
GPIO
USB v2
USB v3
eNVM/SATA
SATA
mini-PCIe
JTAG
Optional I/O expansion/användning på I/O kort,
PCIexpress gen. 2, x4 lanes
SerDes
Camera Link
SpaceWire
SpaceFibre
CAN 2.0b
Indikativ prestanda för iX10-100:
CoreMark v1.0, 25,506.95 (GCC9.2.1 20191102 -O3 -funroll-loops -fgcse-sm -mfpmath=both -DPERFORMANCE_RUN=1 -lrt / Heap)
Linpack, 54 GFLOPS
CLpeak, 2000 GFLOPS (fp16)
FPGA har 924 DSP block (18×18)
AMD-FPGA PCIe interconnect, x4 lanes gen 3 (12.8 GT/s)
AMD ROCm
Kör Nvidia CUDA kod på SpaceCloud. Spar utvecklingstid. Caffe TensorFlow Theano PlaidML MIOpen NCCL HIP
Unibap har anpassat AMDs högprestanda beräkningspaket (HPC), ROCm till SpaceCloud-produktfamiljen iX10 och nyare.
Obs. notera att det inte går att använda grundversionen av ROCm. Endast den av Unibap anpassade ROCm för SpaceCloud är möjlig att använda.
Ett exempel på konvertering av Nvidia CUDA kod med AMD HIP kompilator för exekevering på iX10 familjen.
$ hipify-perl square.cu > square.cpp // ROCm "Hipify" an Nivida CUDA code to generic cpp code.
$ hipcc square.cpp -o square_hip // Compile the cpp code with AMD "hip compiler" to either AMD or back to Nvidia.
$ ./square_hip // and finally run it on Unibap's SpaceCloud™ ROCm stack for AMD APU devices.
info: running Square CUDA example on device AMD Ryzen Embedded V1605B with Radeon Vega GFX
info: allocate host mem ( 7.63 MB) info: allocate device mem ( 7.63 MB)
info: copy Host2Device info: launch 'vector_square' kernel info: copy Device2Host
info: check result PASSED!