Autonomous manufacturing
No matter how fast or precisely they move, industrial robots only adapt as quickly as people can program them. Modified product specs, process improvements, customized orders—small changes like these add up to big costs whenever human intervention is required.
Unibap provides solutions for flexible industrial robots for autonomous manufacturing together with GE Digital and Intel. Unibap's solution for autonomous manufacturing integrates and combines Intelligent Automation (IA) and automatic quality inspection & Operations for discrete manufacturing.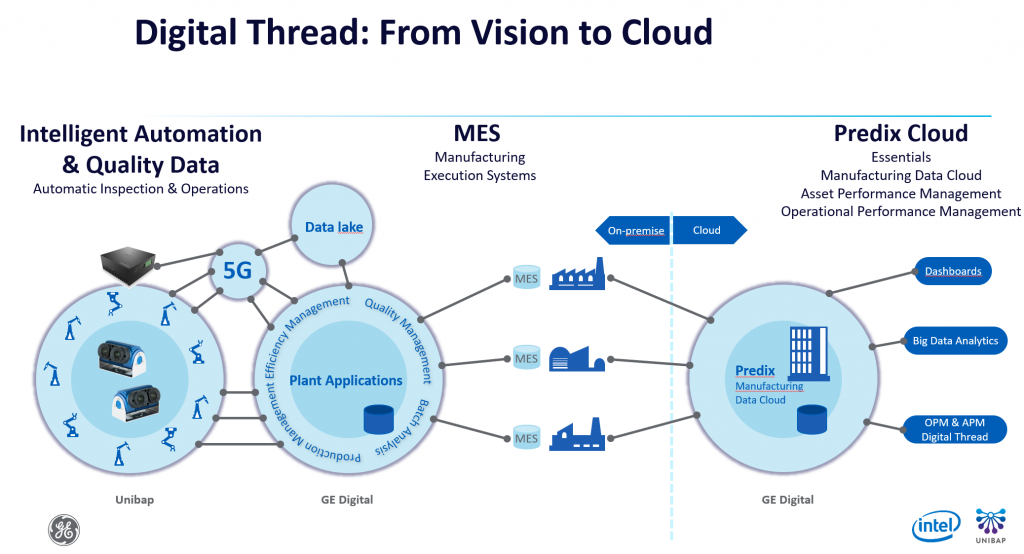 Illustration of Digital Thread.
Unibap's solutions are saleable from a single production line to global manufacturing spread over several Smart Plants through the Digital Thread partnership with GE Digital. The Digital Thread provides big data analytics in Predix Cloud, Manufacturing Execution Systems (MES) on-premise with Edge computing and 5G connectivity.
GE Digital analyses the Unibap provided real-time production data at the edge and transmits settings to the equipment using its Manufacturing Execution System. The system also passes information that doesn't contribute to real-time decisions to the GE Predix Cloud for deeper analysis and benchmark. Predix Cloud and the MES solution can provide process optimizations and performance metrics over a global manufacturing chain.
Benefits
Reduced QA cost
Automatic QA: "lean", no manual inspection
Reduced robot set-up cost
Intelligent Robot Automation, Quicker set up new products
Reduced Waste/react quicker
MES, Feed QA data to MES, get alerts and act
Reduced Waste/pro-active
MES, Feed MES data to Cloud, develop predictive analytics
Reduced Maintenance cost at right risk & increased uptime
APM, implement right strategies and actions
Demo and additional information
Intel, Unibap och GE have developed an advanced demonstrator located at Intel's 5GIC Center in Kista, Sweden.
Introduction to Unibaps abilities by Unibap's CEO, Dr. Fredrik Bruhn
Dig into flexible automation with Unibap's CEO Dr. Fredrik Bruhn
Example how GE Predix MES helps manufactures optimize processes
Partnership for Smart Industry