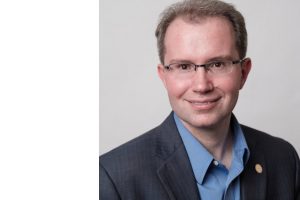 On August 1st, 2018, Dr. David Bray will join Unibap's management advisory board as a Senior advisor. He will provide broad insights on Artificial Intelligence, Machine Learning, and Automation, as well as real-world expertise on Innovative Strategies, Data Science, the Future of Work, Disruption, Resiliency, and incorporating Human-Centric Principles to future-focused endeavors.
Dr. Bray is executive director of the People-Centered Internet coalition, co-founded by Internet co-creator Vint Cerf and chief strategy officer of MapLarge. The PCI coalition focuses on providing support and expertise for projects that demonstrably improve people's lives and livelihoods using the Internet. He also was named a Young Global Leader by the World Economic Forum for 2016-2021 and Business Insider identified him as one of the top "24 Americans Who Are Changing the World". Dr. Bray first met Unibap's CEO, Dr. Fredrik Bruhn, as an Eisenhower Fellow after traveling to Taiwan and Australia.
He has served in different positive #ChangeAgent capacities, including leading the technology response for the U.S. Centers for Disease Control and Prevention's Bioterrorism Preparedness and Response Program to 9/11, anthrax in 2001, SARS and monkeypox in 2003, and other public health outbreaks. He also was a senior strategic advisor in Afghanistan in 2009, helping to "think differently" on military and humanitarian efforts in the region; executive director for bipartisan a National Commission reviewing major Research and Development programs; and chief information officer for the FCC from 2013-2017. He led a team of positive #ChangeAgents to receive the Global CIO 100 award twice in both 2015 and 2017. Since 2017, he has served on the American Academy for the Advancement of Science's Selection Committee for the AAAS Lemelson Invention Ambassadors program and was also named a Marshall Memorial Fellow to Europe.
Dr. Bray holds a Ph.D. from Emory University's Goizueta Business School and two-post-doctoral associateships at Massachusetts Institute of Technology (MIT) and Harvard. He was named a visiting associate at the University of Oxford starting in 2007, a visiting residence at Harvard University starting in 2015, and faculty at California-based Singularity University starting in 2017. He serves on the Board of Directors and Advisory Boards for multiple organizations focused on adaptive strategies regarding global turbulence, social impacts of technologies, and distributed decision-making in challenging environments.
– Our world is experiencing rapid changes triggered by new technologies and societies responding to the technologies. The global impacts of these rapid changes include growing concerns about the future, increasing social friction, and widening polarization in communities which will require positive #ChangeAgents from all sectors to help bridge diverse perspectives and illuminate a better way forward. Having met Fredrick through the global Eisenhower Fellows program, I'm excited to work together to demonstrate how positive #ChangeAgents can demonstrate better more people-centered ways for responsible AI, machine learning, and automation that benefits communities, individuals, and multiple sectors. Together we can address important questions associated with the Future of Work and Governance for the exponential era ahead", says Dr. Bray.
– It is a great privilege and honor that David has chosen to be an advisor to us and strengthen our ambitious goal of sustainable growth in Smart Industry. One of my guiding stars is better quality of life and responsible AI, and David's knowledge will be of great benefit for the company, myself, my management team as we upscale our business in advanced automation. It also further strengthens our networks around the world to attract further talent", says CEO Dr. Fredrik Bruhn.