SpaceCloud® iX10-100
SpaceCloud® computer solution for space systems with AMD HPC ROCm support.
iX10-100
The iX10 family is Unibap's most competent and versatile computer solution for highly demanding space applications. It offers a wide range of I/O interfaces, exceptional data processing capabilities, and extensive storage capacities, with a proven maturity of TRL 8.
The iX10-100 contains an AMD Ryzen V1000 CPU with Radeon GPUs paired with SATA and NVMe SSD storage, a Microsemi PolarFire FPGA, and an optional mini PCIexpress (mPCIe) AI processing accelerator (e.g. Intel Movidius Myriad X VPU). In its fully equipped configuration, the iX10-100 provides approximately 20 times the processing power and 40 times the storage capacity when compared to the iX5 family.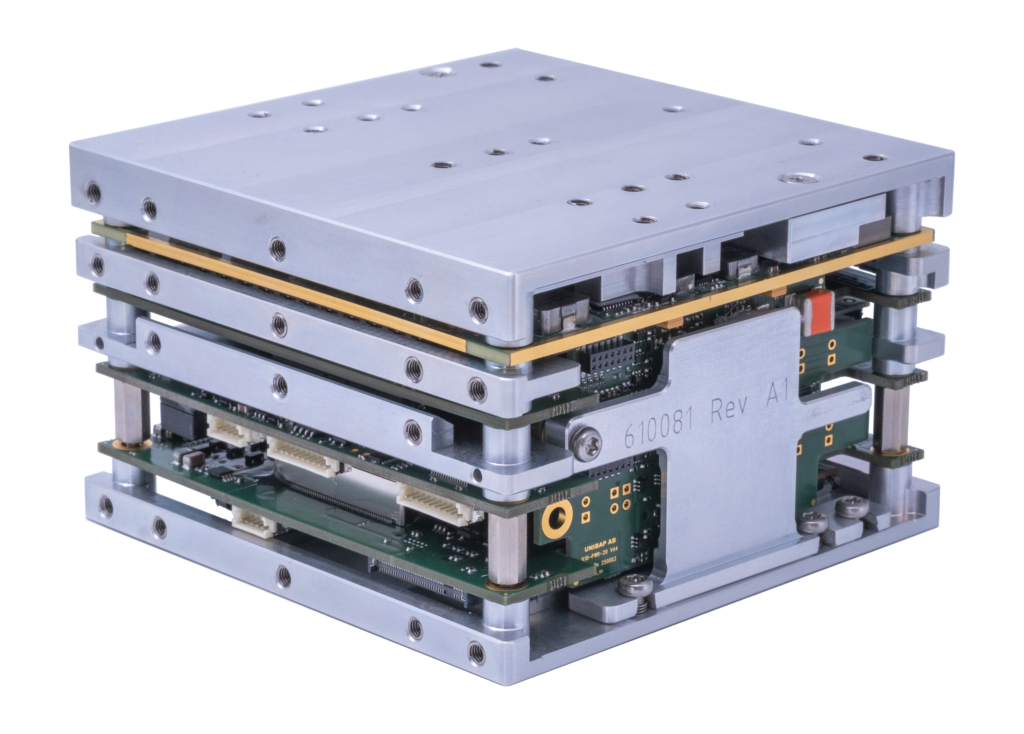 Key features:*
I/O options: 2x Ethernet 10 GbE (10GBASE-T), 4x USB 2.0, 3x RS232/485, 2x SpaceWire
25 000+ coreMark v1.0 per cpu core
2000 GFLOPS fp16 OpenCL/HIP GPU
924 (18×18) FPGA DSP cores
4 TOPS Intel Movidius Myriad X Vision Processing Unit for additonal AI acceleration
>8 TB of storage
<40 W power consumption
100 (W) × 100 (H) × 100 (D) mm dimensions
<1000 g mass
*Unibap offers customization of our standard products to make them fit the customer's needs